Our Operating Theatres and Safe Surgery
We deliver services to solve the healthcare problems of our patients within the shortest time possible by using peerless experience of years flawlessly in all disciplines. Hisar Hospital provides services at operating theatres that have modern medical equipment and ensure safety of patients and staff in all medical disciplines.
Central sterilization system, air conditioning system and the cutting-edge devices at our operating theatres constitute optimal conditions for patient safety. All surgeries are performed successfully at our operating theatres, including microscopic, endoscopic, arthroscopic and laparoscopic procedures.
Surgical procedures performed at our operating theatres
Algology
Neurosurgery
Pediatric Surgery
Gastroenterological Surgery
General Surgery
Thoracic Surgery
Ophthalmology
Gynecology and Obstetrics
Cardiovascular Surgery
Otorhinolaryngology (ENT)
Oncologic Surgery
Orthopedics and Trauma
Plastic and Reconstructive Surgery
Urology
Neonatal Surgery 
What is Safe Surgery?
We prioritize the most optimal conditions for a surgery and we attach outmost importance to teamwork. Due to the developments in surgical techniques in our country and around the world, safe procedure practices have become compulsory. Therefore, there are many measures to be taken to carry out the most challenging and complex surgeries in a safer manner. This brings about certain advantages for the patient and the surgeon, including less surgical traumas, safer surgery and fewer complications.
Fields of Practice in Safe Surgery
Serious injuries and adverse and sentinel events caused by wrong-site, wrong-procedure and wrong-patient surgeries continue to be a source of concern for the hospitals. Such mistakes are caused by insufficient or ineffective communication among the members of the team performing the procedure, absence of a process for marking the surgical site and lack of the active interaction with the patient. In addition, other factors that commonly increase the rate of mistakes include insufficient evaluation of the patient, insufficiently reviewing the medical records, lack of a culture supporting open communication among surgical team members.
Quite detailed efforts have been made at our hospital in accordance with the standards set by the World Health Organization and JCI.
Critical checks are done in 8 main stages before each surgery;
Accurate verification of patient's identity,
Marking the surgical site,
Preoperative clinical control,
Patient order,
Transferring the patient to operating theatre,
Anesthesiology clinical control,
Time Out,
Sign Out,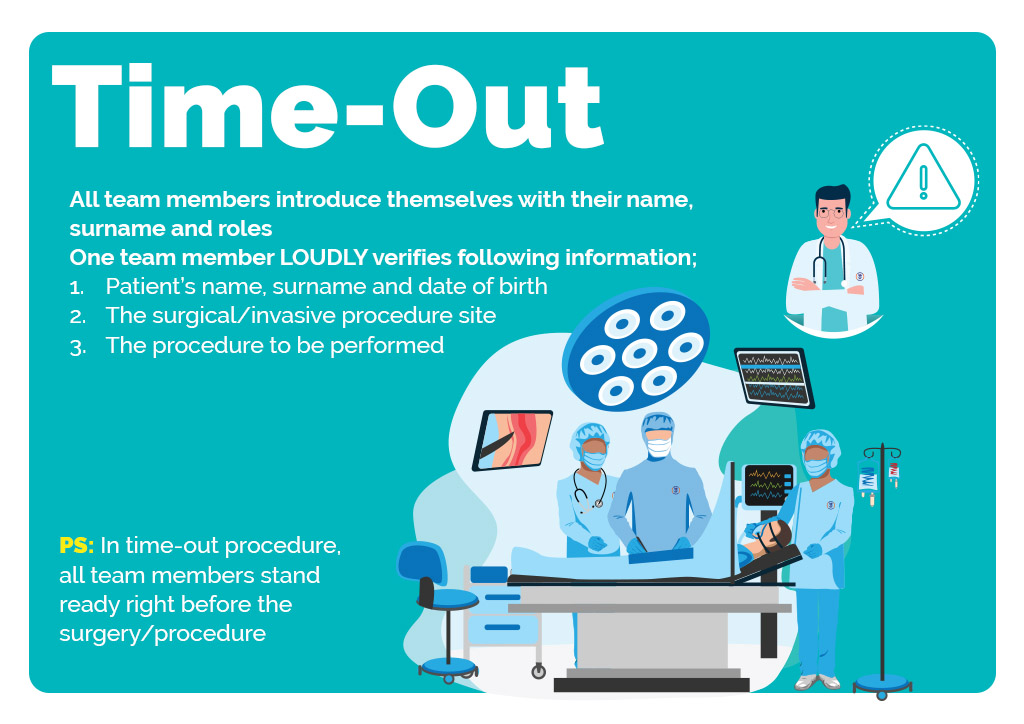 In time-out procedure, all team members stand ready right before the surgery/procedure;
a) Patient's identity details
b) The procedure to be performed
c) The surgical/invasive procedure site is verified upon mutual understanding of the team members and the process is recorded.
Sign-out procedure is defined in the World Health Organization's (WHO) Safe Surgery Checklist as a procedure that should be carried out before the patient leaves the operating room. During sign-out;
d) Name of the surgery/invasive procedure recorded/written
e) Completion of instrument, sponge and needle counts (if any) are agreed and the process is recorded.
The Universal Protocol for Preventing Wrong Site, Wrong Procedure, Wrong Person Surgery™ of the Joint Commission (U.S.A.) is partially based on the principle of always adapting various strategies for determining the correct patient, correct procedure and correct site.